Tonalism
Tonalism is an American artistic movement that was started in the late 1800's. The movement is used to describe the dark landscapes that were said to have been influenced by the French Barbizon artists. The color in a tonalist painting has a predominantly even darker color and can be associated more with moonlight than sunlight. Luminism emphasizes light in painting just as impressionism does, but without strong brushstrokes. Tonalism is in contrast to Luminism. Two important tonalists from history are James McNeill Whistler and George Inness. George Innes was influenced by the Hudson River School movement. The Hudson River School of thought was that there was great beauty in the American landscape and it was celebrated in this group of painter's works.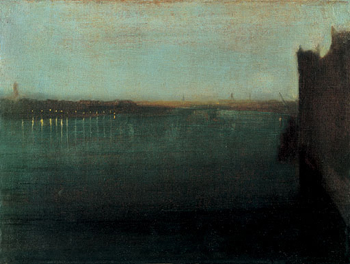 It is interesting to see that some of the more modern tonalist paintings do not arrive without influence. The works of James McNeill Whistler have obviously influenced the more modern tonalist paintings and even the abstract ones as well. Below is a painting from the 1800's titled "Nocturne in Grey and Gold" by James McNeill Whistler. It is a representational abstract in nature, and a tonalist painting. Although I am unsure of the artist's intent, It's appears to be a seascape at night with lights on the horizon. It is a fine example of a tonalist painting. If you look at this painting and compare it to more modern paintings of its kind you may also see the influence.
Some other notable tonalists are:
* Edward Mitchell Bannister
* Thomas Dewing
* Henry Farrer
* Percy Gray
* Xavier Martinez
* Arthur Frank Mathews
* Granville Redmond
* Henry Ward Ranger
* Albert Pinkham Ryder
* Dwight William Tryon
* John Twachtman

I think many tonalist paintings are dreamy. One of my favorite paintings in my possession is a tonalist painting. The subject is a sailboat on the sea on a moonlit seascape. The main colors of the painting are browns and golds. I remember it hanging in my grandmother's house when I was a child. It hung on a wall that was near the arm of the sofa. As I lay there before taking a nap, I would gaze at that painting and wonder about it. I believe the painting softly nudged me to sleep with its dreamlike quality.
To further your reading on the tonalist movement, you may fancy reading these books, including a book about George Inness and also a book authored by him:

Intimate Landscapes: Charles Warren Eaton and the Tonalist Movement
by David Cleveland

George Inness: Writings and Reflections on Art and Philosophy
by George Inness (Author), Adrienne Baxter Bell (Editor)

George Inness and the Science of Landscape
by Rachael Ziady DeLue

Sources: Wikipedia, Encyclopedia Britannica, Amazon.com