Abstract Art and Modern Paintings for Sale - Beautify Your Home
All the paintings in this website are the creations of Osnat Tzadok - a self-taught artist. In the last 15 years, I have devoted my artistic talents to create abstract art in many themes including landscape, seascape and cityscape. My art is sold world-wide and has also been featured on CBC news.
Creating art is my passion! Every time I pass near a blank canvas I feel something explode inside of me. It is not something I can explain or pass on to someone else...but it is, always, a beginning of a new original creation. I think that this statement perfectly portrays what the viewers should feel when viewing an artist's abstract creation.
Just as an artist gets this "explosion", we receive the same feeling when looking at artworks if we truly appreciate it. The beauty of non-representational art is that we can create the story within the painting. We can ask ourselves, "Why do these colors interact with each other?" or "What does this symbolize?".... And with those questions our imagination brings about answers. Sure, representational art is still beautiful in its own way, but the artist already has revealed what they want you to see.
This entry was posted on .
When one looks at all the trees and plants that grow around us, one can only look at the beauty of nature with admiration. The richness of color, details and variety of all growing things is simply immense, and reflecting this beauty on canvas is always an inspiration for me.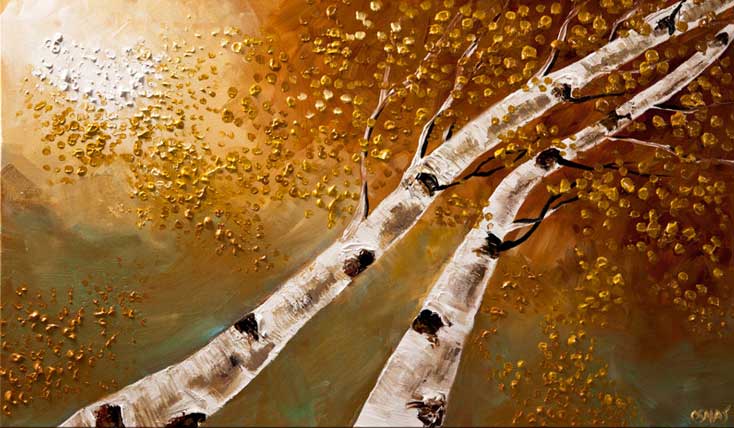 This entry was posted on .
Life can be distressing and difficult at times, and we all look for ways to alleviate the stress and improve our overall feeling. Nature offers a basic answer for improving our well-being: Flowers!
Having floral paintings around your house can trigger cheerful feelings, elevate the spirit and bring a sense of optimism to life.
This entry was posted on .
Customers' Testimonials
Dear Osnat,
The paintings that we ordered from you arrived safe and sound and they are wonderful! The work you produce is awesome! You are a very creative and gifted artist. The work we ordered fits perfectly into our home decor.
Sincerely, HBM
The painting is stunning. I need to invite more people over to see it. It was exactly what I was hoping for. The preview gave me a good idea of what to expect, but it didn't do the painting justice. Shipping was perfect. It got here fast and the painting was well packaged.
Overall I am very happy with the purchase.
Hello Osnat,
Thank you very much for the lovely painting!!!! All of us and my friends like it very much!!!
Kind regards,
Lena
This is a stunning piece to see in person and we couldn't be more pleased. Was packaged well and arrived promptly.
Thanks, Osnat!
This is such a beautiful painting. I absolutely LOVE it! Can't wait to hang it up in my new apartment - it will be the focus of the room! Thank you so much!
The painting arrived quickly and very well packaged.
Cheers, Tara
We are thrilled with our new piece. It is perfect for our beach house. The workmanship is exceptional. We've had many many compliments about it. It was shipped with care and clearly made with passion.
Thank you Osnat
Contact Me
Contact me
osnat@osnatfineart.com
Thanks for browsing my website, I hope you find it appealing and interesting.
You may also contact me by phone at

Mon-Fri 9AM-7PM