Modernism
Unlike modern times, Nude models were typically required to be modest and drape their faces with cloth in Victorian times. Manet's paintings broke away from many ideologies of his time.
Modernism continues to change and evolve into new forms of art movements such as: impressionism, post-impressionism, cubism, futurism, expressionism, constructivism, de stijl, abstract expressionism, color field painting, lyrical abstraction, geometric abstraction, minimalism, abstract illusionism, process art, pop art, and post-minimalism.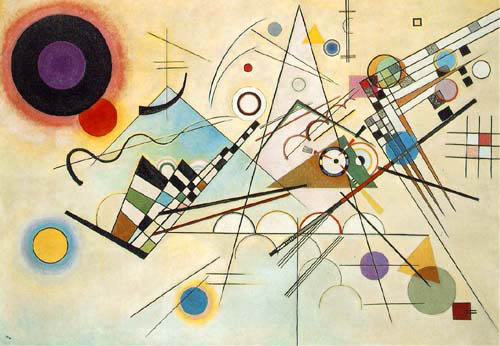 Composition III, Wassily Kandinsky
Some famous modernist and contributors to the modernist movement are: Walter Darby Bannard, Ross Bleckner, Johannes Andreas Brinkman, Sir Anthony Caro, Dan Christensen, Chuck Close, Susan Crile, Ronald Davis, Jim Dine, Helen Frankenthaler, Lucian Freud, Sam Gilliam, Solomon Guggenheim, Monroe Harriet, Al Held, Jasper Johns, Alex Katz, Ellsworth Kelly, Ronnie Landfield, Brice Marden, Agnes Martin, Elizabeth Murray, Kenneth Noland, Claes Oldenburg, Tom Otterness, Jules Olitski, Philip Pearlstein, Larry Poons, Archie Rand, Robert Rauschenberg, James Rosenquist, Sean Scully, Richard Serra, Joel Shapiro, Frank Stella, Joan Snyder, Cy Twombly, Isaac Witkin, and Larry Zox.
If you're interested in furthering your knowledge in Modernism, Google some of the names mentioned above. You may also be pleased to check out the following books:

High Art: Charles Baudelaire and the Origins of Modernist Painting
by David Carrier

Most Difficult Journey: The Poindexter Collections of American Modernist Painting
by Ben Mitchell, Rick Newby, Andrea Pappas

Against Voluptuous Bodies: Late Modernism and the Meaning of Painting
by J. M. Bernstein

Glorious Eccentrics: Modernist Women Painting and Writing
by Mary Ann Caws

British Artists and the Modernist Landscape
by Ysanne Holt

Cezanne and Modernism (SUNY Series, The Margins of Literature):
The Poetics of Painting
by Joyce Medina, Miriam I. Spariosu (Editor)

The Modernist Tradition in American Art, 1911-1939
by Marilyn S. Kushner, Susan Cooke, David Mickenberg (Preface by)

The Women of Beaver Hall: Canadian Modernist Painters
by Evelyn Walters

Modernists in Taos: From Dasburg to Martin, Vol. 1
by David L. Witt, Elizabeth J. Cunningham (Editor, Dean A. Porter

Sources: Wikipedia, Encyclopedia Britannica, Amazon.com