Impressionism
Impressionism is an art movement that was started by a group of French painters who decided to discard old ways of doing art. Lines were replaced by rounded shapes or tiny dots. Dark shadows became colorful and bright. These painters often enjoyed painting outside. This is where the term plein air painting got started. Plein air means "outside" in French. Artists began to discard old painting supplies and picked up box easels and panting tubes, allowing them to easily travel outdoors with their supplies. I can imagine the energy the artists felt when they actually decided to toss away the technique of painting shadows with dark color.
Impressionism is one of my favorite types of art. I can feel the warmth of the sun, smell the brightly colored flowers, and see them dance in the wind. Impressionism is a looser way of painting, a less uptight method that shows softness in the final piece. Looking at a piece of impressionistic art is like peeking into a dream. It is often familiar yet mysterious.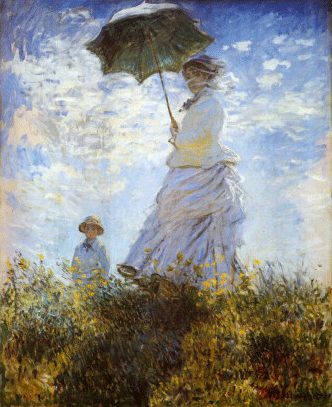 One of my favorite memories is going to a museum as a young child with my mother. We went to the huge collections of Claude Monet's paintings. I remember being fascinated by the haystack paintings. The paintings were done at different times of the day.
The same haystacks were studied by Monet in his painting with each season. It was an exploration of light. I was in awe by the concentration given to the one particular subject. While loose and free, there was a strong discipline performed in creating these paintings. I felt as if each painting showed a living subject and commemorated its life. My second favorite was the paintings of the lily pads. Again the study of light was given great emphasis, but this time with reflections. I could almost feel the sun on my face as it was reflected in the water.
Some of the techniques used by impressionistic artists, many of which help to achieve the soft dreamy look art:

- Impasto: - painting with thick strokes of paint
- Plein Air: Painting outside
- Mixing complementary colors for shadows
- Special attention given to light
- Informally mixing paint by brushing a new color on the wet canvas by softly mixing the color.
Some famous impressionist artist:

* Frederic Bazille
* Gustave Caillebotte
* Mary Cassatt
* Paul Cezanne
* Edgar Degas
* Armand Guillaumin
* Edouard Manet
* Claude Monet
* Berthe Morisot
* Camille Pissarro
* Pierre-Auguste Renoir
* Alfred Sisley