September 08, 2018

Osnat Tzadok
What is Abstract Art
Some artists will say Abstract Art is a "form of art", others will say "it is a personal work", "imagination", "a free form expression of thoughts on canvas", or more formally "an undefined expression of shapes, forms, colors, and textures".
For me it is all about the process. The process is mysterious, unexplained, a way of communication between my inner self and the physical world. It is not what the eye sees and the hand touches when the work is done, but a manifestation of an abstract mental process that escapes real definition.
I paint without planning ahead, without picking up favorite colors or paints. When I create abstract art I paint it without resting. I don't need anything else but music and a quick look at the canvas. The few people that saw me work couldn't believe the short time it requires me to finish one piece. Whatever comes to my mind was shortly reflected on the canvas. I detach myself from the physical world and delve into my inner world were the real celebration is taking place.
As a spiritual person but especially as an artist - flow is my moto. Flow is the art of letting things happen; it is where the subconscious is leading the conscious, and where the apparent is giving way to the hidden. You may think of it as the process where magic takes place.
And here is a short anecdote... One day I left the painting to dry and stepped out of my studio. I did not know that while I was away, the painting has taken a different shape. How you may ask? Well, before I left the house I laid the painting flat on the floor in my home studio. One of the water pipes started leaking right above the canvas and small droplets of water came smashing on the wet canvas. The result was something I could not expect - a brilliant display of colors in a formation that I could not envision in retrospect.
Although there are different abstract artists creating artworks in different styles, there is one thread that unites them all. The ability to play with colors without giving too much thought into the process is in the core of their creations. In my mind, if it were left to meticulous planning and thought, the artworks would come out too technical and obvious. Being able to flow with the creation while it is created, gives it its spark and beauty, and opens it up to the viewer's interpretation.
"20 Millions Things To Do"
-
View Artwork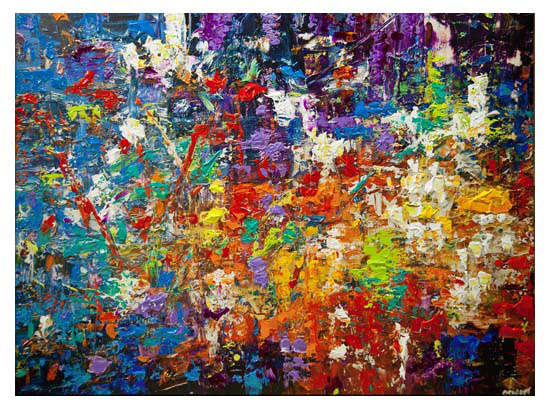 "The Blue Star"
-
View Artwork