June 10, 2016

Osnat Tzadok
The beauty of birch tree paintings
When one looks at all the trees and plants that grow around us, one can only look at the beauty of nature with admiration. The richness of color, details and variety of all growing things is simply immense, and reflecting this beauty on canvas is always an inspiration for me.
Birch Trees can be considered as one of the most beautiful type of trees that you can find on this planet. This tree has got its name from an Indo-European word, which means bright, white to shine. Birch trees have simple and broad leaves that are shed leaves annually. The bark of this tree has a light color, which has contributed a lot towards its impressive appearance.
The unique features that can be found in Birch trees have contributed a lot towards their popularity. In fact, many people prefer to enhance the look of their front yard with the help of a clump of birch trees. As a result, there is a significant demand for Birch trees as well.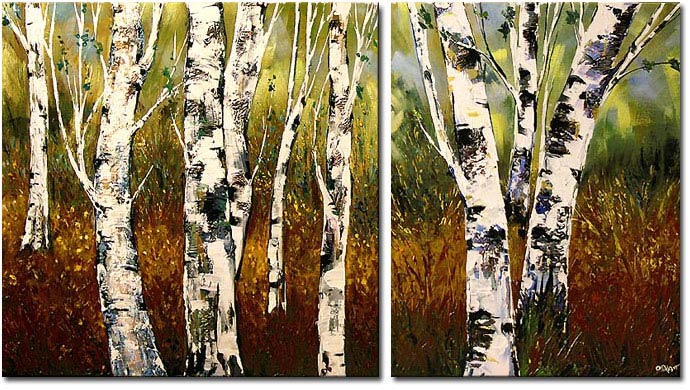 "Birch trees" - painting by Osnat Tzadok, acrylic on canvas.
The golden yellow leaves that these trees get during the autumn delivers a fascinating look. It matches perfectly well with the white colored trunks. The Birch trees are associated with a majestic look. Only few types of trees out there in the market have the potential to deliver such a unique look and feel. The light color of the trunks and the green yellowish color of their leaves can make you feel relaxed. This fact has also contributed a lot towards the popularity of these trees among modern world homeowners.
Birch trees are widely being used in landscape paintings. In fact, landscape paintings have received a lot of attention in the recent past. People in every corner of the world tend to invest their money on landscape paintings as they have the potential to make them feel closer to nature, and adds a feeling of calmness to any living space. The relaxing nature of Birch trees would therefore fit perfectly well with landscape paintings. On the other hand, Birch trees look beautiful when compared to other types of trees available out there. As a result, artists enjoy creating this type of landscape paintings.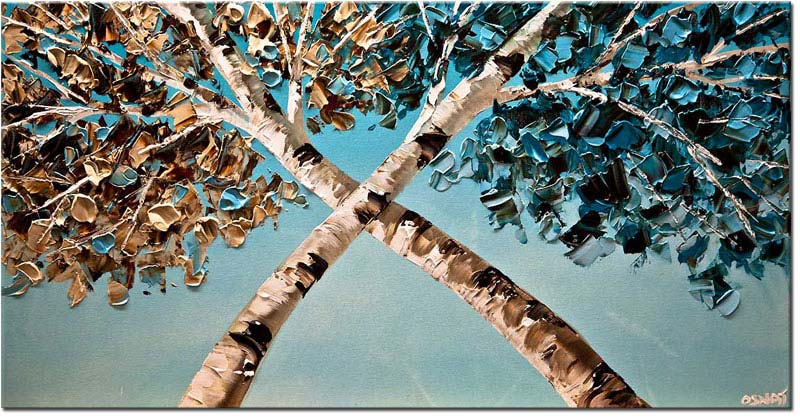 "Soulmates" - Birch trees painting by Osnat Tzadok,
You can find many different types of Birch trees as well. Jacquemontii birch is the most popular type out of them. This is a white barked tree that is equipped with a shallow root system. These trees grow up to a maximum width of 20 feet and a height of 40 feet. The wedge shaped leaves of these trees have contributed a lot towards their popularity. The saw-like edges of the leaves would turn yellow during the fall. The paperbark Birch trees are also popular and they grow up to a maximum height of 75 feet. This tree has a red-brown colored bark when it is young.
As you can see, birch trees are huge and they would fit perfectly well into large scale paintings. You are invited to browse my collection of birch tree paintings - they can be ordered as prints or hand-made paintings, and can serve as a great decoration in hallways, reception areas, living rooms and other spacious areas.