April 20, 2016

Osnat Tzadok
The beauty of floral paintings
Life can be distressing and difficult at times, and we all look for ways to alleviate the stress and improve our overall feeling. Nature offers a basic answer for improving our well-being: Flowers!
Having floral paintings around your house can trigger cheerful feelings, elevate the spirit and bring a sense of optimism to life.
Known Artists that Painted Flowers
On the off chance that you can't get enough of the excellence of spring blossom in action, you're not the only one. All through history, blossoming plants and scented sprouts have never neglected to charm the faculties of a great many individuals. Actually, some were so captivated by the quintessence of flowers that they committed a substantial segment of their lives to catching their pictures on canvas. Georgia O'Keeffe, Claude Monet and Vincent van Gogh were the three artist figures that made huge contributions in reflecting these nature's most delightful shapes on canvas.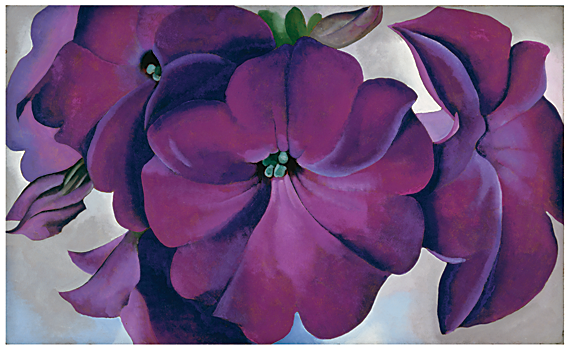 Georgia O'keeffe - petunias, 1925, oil on board.
The Effect of Flowers on Productivity
Hanging floral paintings in the home and in the working environment is a great way to improve the overall feeling of any living space. The quieting impact of colorful flowers has a very positive effect in places where there is a lot of commotion and busy workloads. Based on a research done by Dr. Roger Ulrich (Texas A&M University), it was found that "a change as simple as adding flowers and plants can be important in the most meaningful way to businesses in the modern economy". Work performed in such environment is typically of higher quality and is more productive.
Flowers, Colors and Emotions
In actual sense floral paintings provide a vast sea of colors which evoke certain emotions and feelings in the people who surround them. Like in paintings, red is thought to have extremely physical impact, inferring both negative and positive emotions. It is frequently thought to be manly, forceful, and solid. It also evokes emotions of passion and love. Yellow is regularly connected with agreeableness, however can likewise inspire musings of wretchedness and give the impression of delicacy. Green shades are seen as an adjusting shading in paintings. It infers peace, restoration and calmness. On the other hand tranquil colors is great for anyone who needs serenity and relaxation.
Artists throughout the years made fantastic use of flowers in their creations and made beautiful compositions to express their artistic capabilities. The most painted flowers were, and still are, roses, orchids, wildflowers and lilies. Roses are presumably the most painted flower, expressing love and passion between the sexes. Orchids have a sort of delicacy in their composition and appear in various light tones of pink, purple, red and white. Wildflowers are another bloom that you can frequently see in most flower paintings as they are very colorful. Last but not least are the lilies, an elegant flower that comes in different shapes and colors - a delicate species with unique scent and pollen.
On the subject of flower composition the success of flower paintings depends on two subjects who are: focal area and compositional design. Focus point or Focal are is the most vital region of the work of art. The region will first pull in the viewer's attention. Compositional designs are still vital; however they assume a subordinate part to the primary central region.
Throughout the world different techniques are used to paint the flowers; acrylic color painting is among the top ones. Other painting techniques include the employment of water colors, oil colors and sometimes pastel colors as well. The usage of these different techniques in paintings adds artistic flair and style to any painting.