April 13, 2016

Osnat Tzadok
Home Decoration - Basic Guidelines
Decorating your home is a fun and rewarding process. Why do people spend on decoration? Basically, to beautify their living space as well as to win the admiration of other people. Clearly, the home interior is as important as its exterior, if not more than that. When thinking about interior design, one should align the decor with the overall theme of the house - be it of a classic, contemporary or modern look.
Flooring
A home cannot be renovated completely with a limitless budget, but you can do major changes to the interior and make it attractive and appealing without breaking the bank. When you are looking for home decoration ideas you need to look at few aspects closely. First of all you need to focus on the flooring of the home. It is an important space attribute that demands some attention. For floor decoration, there are a lot of choices available to you. You can add wooden tiles, ceramic tiles or crystal black tiles. There are quite a lot of options that will make your floor look fabulous and inviting, with budget being the only barrier. Make sure that whatever you select for your floor, it must be durable and installed by a reputable professionals.
Furniture
The furniture is another important aspect that certainly has an impact on the overall look and feel. When looking for home decorating ideas you need to give attention to the sofas, book shelves, coffee tables, cabinets and dining tables. Owners of modern homes can find sleek and decorative cabinets, TV stands, office desks, kitchen tables, chairs, living room sofas and other leather-made furniture. Today you can search for and purchase many of these items online and have them delivered to your door step. The trend of buying leather furniture is getting popular and it is an elegant choice for better decoration, as well as comfort. Your kitchen is also an important part that you need to give proper attention to. Adding a small kitchen table with 3 or 4 nice looking chairs can make a big different. After all, most of the time, the kitchen is where we meet the rest of our family. See if you can also add some quality small appliances to make it a fun place to be in. A good coffee machine, a juicer, a modern electric kettle and colorful cutlery can have a bigger impact than you imagine.
Wall Decor
The walls in your home are another important aspect you should look at, as you don't want to leave them empty and lifeless. Decorating your walls according to your own taste, will make you feel at home, as well as make your space more inviting for other guests. Paintings that are hang at eye level cannot be disregarded or ignored, so make sure you hang pieces of art that are somewhat unique. Paintings can add light and vibrancy to any room, as well as set its atmosphere. Hanging paintings is not the only option - you can hang light-weight flat sculptures, prints, reproductions, or even hand-made crafts - all of which you can find online. However, hand-made and original paintings are considered the most attractive additions to any bare wall. Choosing paintings can be a time-consuming task just because there is such a big supply. Hand-made paintings that are coated with a layer of varnish will help keep them vibrant and protected for many years, so make sure that the paintings you buy are varnished. Also note that it is not necessary to have a close match between the wall color and the dominant colors in the painting. Some contrast between the two is even required, and will help make the painting stand out. Still, make sure that the painting theme fits the overall look and feel of the room. For example, don't mix and match a modern landscape painting in a room that has classic furniture. On the other hand, modern paintings can go well in both contemporary and modern houses. If you can afford hiring an interior designer to find the best match for you, don't hesitate to do so, as you will benefit from the investment.
Example of a living space with modern flooring, furniture and wall decor: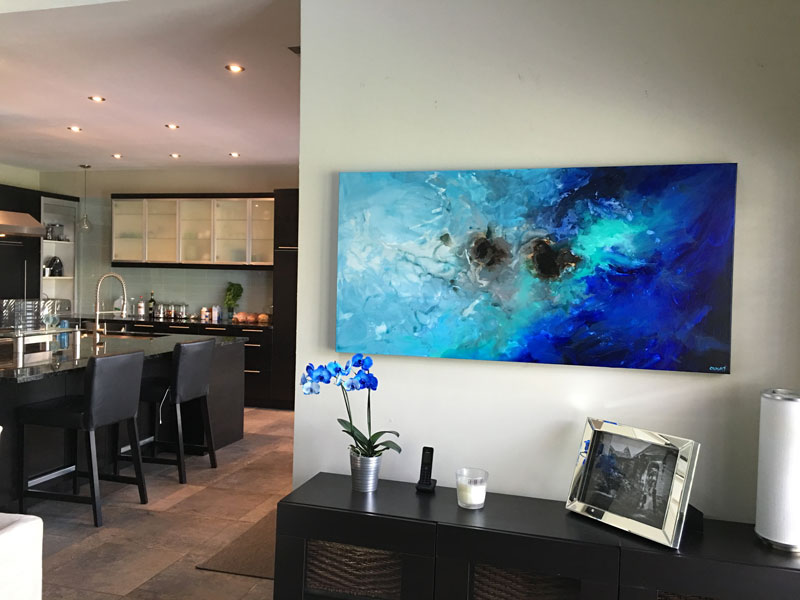 Good luck with your interior decoration projects...