Many of you probably recognize me by the pouring technique I use. I started with the pouring technique about 10 years ago. As a self-taught artist I experimented many styles and stumbled upon this particular effect by mistake… Yes, many great paintings are a result of mistakes. There are many pouring techniques of acrylic paint that can be found online such as Facebook, YouTube, Pinterest and many art sites, and quite a lot of images and videos of how this technique can be used.
They explain how to achieve the magnificent effect a pouring technique has to offer, what to buy, what to pay attention to, what not to do and what paints to mix with other paints or ingredients. However, I still consider mine as unique and different.
Why are we so attracted to paint pouring techniques? Well, there are few good reasons:
It is modern, very appealing, fresh and colorful.
You don't need to be a professional artist to use it or to create your own piece.
The flow of the blending colors in front of our eyes is magical and the colors are vibrant!
It is a fun, relaxing process, better than any meditation – stress relief.
Each piece is unique.
This is why I LOVE using this style in my abstract art!
When I paint with acrylic I use my secret 'ingredients' to accomplish a full, flowy, colorful celebration on the canvas. It is fun and the results are totally random and unique in such a way that each abstract painting has its own unrepeatable flow and beauty. As I do commission works, customers ask me to create paintings similar to those that I have already sold. However, when it comes to those paintings were I used my pouring technique, I explain that the finished artwork will be similar and not identical, as each pouring takes its own course and the end result will differ from the original artwork to some degree.
What are the caveats?
Well, although it is considered as a relatively simple technique it can create a mess around your working space - floor, table, cloths, body, or anything else that the fluids may get in contact with. It is also hard to use this technique on huge canvases that are about 72" or wider.
"On Wings of Imagination"
-
View Artwork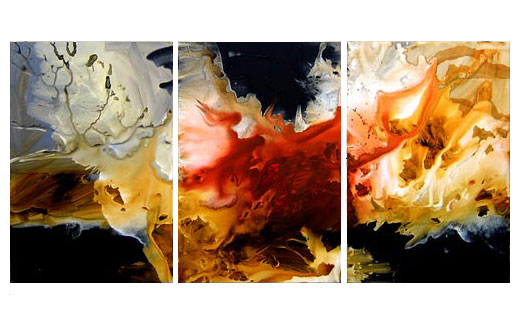 "The New Continent"
-
View Artwork